(435) 527-0949


Complete design freedom. You can supply your label design to us in an EPS document or we can have one of our professional and talented designers create a custom label using your company's existing logo or other artwork.
Top-of-the-line label material and printing. The label is what gives Lip Notes lip balm its impact. All our labels are printed in full-color then laminated to give your message a gleaming brilliance.
Quality, all-natural ingredients. Our unique formula is the key to your success. Because we use only cosmetic grade, all-natural ingredients your clients will hold on to your promotional lip balm for months. And every time they reapply, they will see your custom message. You will be delighted how many of your customers' will tell you how fantastic the balm is and how nice it is to have your contact information so accessible.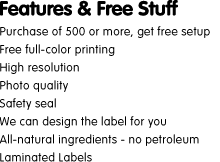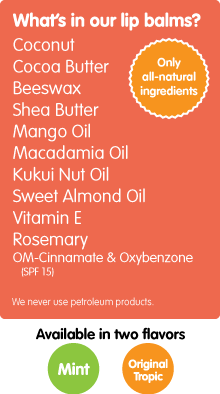 To place an order for promotional lip balm, just select one of the starter bundles above. If you need a larger quantity or have other special arrangements to make, please drop us an email or call 435-527-8835 or 435-527-0949.
Order now! Click on one of the bundles below to begin your order. Call for government or non-profit orders!
Sending your text and artwork
If you place your order using one of the links above, please email your text and graphics to us once your have completed the online order form. If you email your promotional lip balm order to us, you can attach the text and artwork directly to that first message. Either way, please be sure to describe the type of label design you are looking for, including special color selections, size requirements, etc.
For best results we ask that you submit artwork or other graphics in EPS format. If you do not have your materials in that format, we can accommodate most other standard graphic formats as well.
Designing and Approving Label
Once we receive your logo and text we will send you a proof. You will be given two free change requests. Additional changes will incur a $20 fee.
When you are happy with the promotional lip balm design, email us to let us know you have checked the proof and approve the design. When we receive your approval we will process the rest of your order.
Cancellation of Order
If for some reason you should decide to cancel your order after we send your proof, you will only be charged $50.00.
Shipping
We ship all orders via UPS Ground. Please allow 14 business days plus shipping time, from the date your artwork is approved, to receive your order. If you need a faster turn around time, please let us know and we will see what we can do.

Our promotional lip balm formula is unlike any other. The reason companies are so successful using our lip balm as their promotional tool is because of our extraordinary balm. But don't take our word for it click here for a free sample.
Give something people love to use so they will remember you. Old or young, male or female, summer or winter: quality lip balm is always a HIT!
Don't waste your money on another promotional lip balm. Get great results give Lip Notes lip balm.